I love pin cushions, and there are so many tutorials on making various styles and types that it was hard to pick just a few to pass along to you.

This "pin cushion caddy" takes first place in my book! You can easily place sewing items inside the caddy and have all your pins / needles on the outside. What a great idea!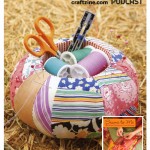 The pin cushion caddy was designed by Anna Maria Horner for Craft. Looks like I'm gonna have to have one of these!

Then you can move on to tiny little bottle cap pin cushions. These are so cute, and she says they only take about half an hour to make.




Jen Segrest has a complete flickr slide show showing the steps to making these bottle cap pin cushions. You can also go to her blog and see additional pin cushions that she has available. Very nice handiwork!

I know the there are pin cushion "swaps" and contests throughout the web, so if you spot some of the swaps or contests in time for us to make an announcement to our readers, please pass the information along to us.