We're getting down to the wire for getting even last minute gifts made. I've found a few quick and easy gifts that can be put together quickly and will make excellent stocking stuffers, or wrap them up to give.

The first gift idea somes from Sewing.org's free projects – washcloth puppets. Now these would make some toddler very happy. Might even be able to use them in the bath water!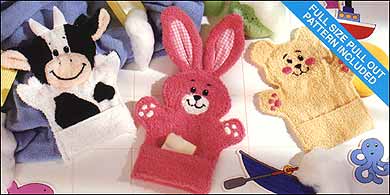 Now how cute are those little darlings!!

And, speaking of washcloth items, our second idea comes from Patterns2Go, and it's for washcloth slippers. These can be made up super quick and are excellent gift items for anybody on your list, and especially those in a nursing home or somebody in the hospital. Grab a pack of washcloths and make a bunch of them. You'll probably want a couple pair for yourself!




The last quick and easy gift is for the "best ever baby bath towel". Anybody with a new baby or even a toddler would LOVE to have this handy towel – the neat thing is that it keeps mommy dry while getting the baby or toddler out of the bath water. This baby bath towel comes from NurseryRoomProjects, and we thank you for the great idea and free pattern.



These ideas should cover a few extra people on your list. Thank you to those folks who have provided the free tutorials / patterns that we can all enjoy. Happy sewing and crafting!