With the economy like it is, I like to pass along as much information as possible to help save some bucks on clothing. It is especially easy to take used, last year's styles or hand-me-down clothing to make children's garments. There are so many children's garments that can be made from adult clothing — you could have an entire wardrobe for a child without spending much money at all.

The first project I found is making a pair of childrens pants out of an old sweater. The complete tutorial is here at Green Kitchen Craft Blog, and looks like a fun project.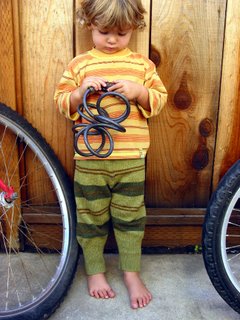 Now doesn't she look cute!

Now for the "rest of the story" — There is a WHOLE BOOK full of ideas and inspiration for making a child's wardrobe out of your old clothes.





I've mentioned before that thrift shops and yard sales are perfect places to get adult clothing items at rediculously cheap prices — and if you pick colors and fabrics that could easily be adapted to children's clothing, you could make your own child's clothing and garments to sell.