As I was surfing the internet for cool things to make, I was amazed at the wonderful gifts and toys that were for children. The tutorials looked like they were quick and easy to make, so I figured I could give you some neat pictures and some information about them, then send you on to the author of the tutorial for "the rest of the story". I LOVE making things for the kids – they always seem so happy, no matter what it is, just because it is new!

The first toy is for all the little boys on your Christmas gift list — a soft rocket ship that comes from our friends at The Long Thread blog. This is so cute!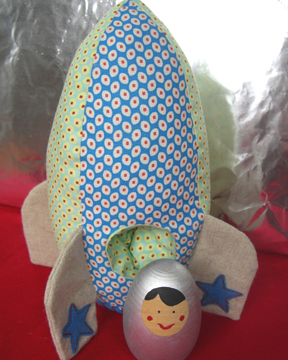 This lovely rocket ship only takes 1/2 yard of fabric — she's used three different fabrics, so it would be up to you if you want it all one color, or several colors. The template for making the rocketship is also included in her tutorial.

The next tutorial is for counting bean bags and comes from One Inch World – I love these counting bean bags, which can be tossed or stacked and counted. Her comment about "stacking them so her 2 year old can knock them down, because that's what 2 year olds do – knock things down", is sooooooo true. So do 3 year olds and 4 year olds! The counting bean bags look like they might take a little while to make, but they will certainly be a dual duty gift —- toys to play with as well as learning material!





The final gift to make will be for the babies on your list – a baby tag blanket brought to us by Thornberry.Wordpress. The blanket looks so super easy and babies DO love to play with the tags on the toys. I made a tag ball for our grandbabies a year or so ago — shoot, I SHOULD have done a tutorial for that! Maybe I'll make another one and do some picture taking as I go through the process.




This tag blanket is made of chenille on one side and flannel on the other side. The only thing that could possibly add to the blanket is if she had put crinkle material on the inside, so the baby could enjoy the crinkle sound as well as the tags!