This time of year we're all looking for quick and easy crafty items to give to teachers, relatives, neighbors, etc. I've run across a perfect no-sew craft idea that could be used a multitude of ways. The author of the tutorial uses the little squirrel on a t-shirt, but I could envision Christmas trees, candy canes, gingerbread men, etc appliqued onto tote bags for school teachers, Sunday School teachers, Holiday motifs appliqued onto a bath towel set for gift giving, and dozens of other ways this idea could be used!

This idea comes from The Long Thread blog, which simply states "a blog about handcrafted goods in an age of mass production". I LOVE this idea!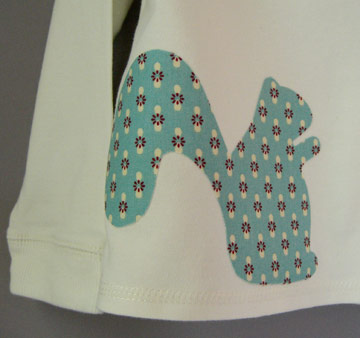 Happy first day of Fall! Here's a little autumn no-sew appliqué project. I put these appliqués on tees, but I think they would be cute on a kitchen towel, tote bag, at the hem of a skirt, or wherever you choose. I think it's best to have some contrast with your fabric — dark appliqué on light fabric, light appliqué on dark fabric. As you can see, the orange fabric above doesn't really show up all that well because of the white in the fabric design. It would also be cute to sew some buttons for eyes, maybe even embroider a little face.
I have never used this Wonder Under product for appliqué because I didn't trust that it would stay on through wear and tear without sewn reinforcement. But I've washed and dried these tees and they just frayed a teeny bit around the edges, so I am satisfied. If you're as confused by the vast array of interfacing at the fabric store as I am, just ask for "Wonder Under" and check to make sure that's what you've got. It comes on a bolt or in small packages. The Wonder Under instructions say this works on wood too. I'm skeptical — anyone tried that?
Supplies:


Double-sided fusible webbing (Wonder Under or other brand)

Fabric scraps (about 6″x6″ for each squirrel)

Tee

Fabric marker

Iron

Small, sharp scissors

Damp cloth
Print out the template you wish to use and cut out the image(s). The single squirrel is about 5 1/2″ wide and the squirrels in the other design are each 4 1/2″ wide:


Cut a piece of fabric just larger than the appliqué design. Iron rough side of fusible webbing to wrong side of fabric, according to fusible webbing instructions. Be sure not to let the webbing overlap while you are ironing or you will get goop on your iron and/or your ironing board.

Place template on the back of your fabric and trace image with a fabric marker.

Cut away excess fabric and then cut carefully around your image with small, sharp scissors.

Carefully peel away backing and place design on tee.

Iron in place according to package directions with damp cloth on top.
All done! NOTE: This is the kind of project that the kids would love to help with!!!