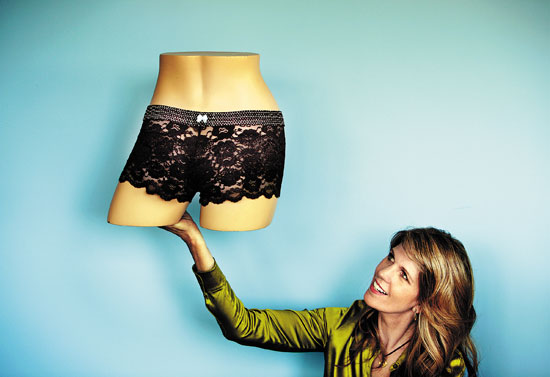 April Spring, a designer from Norfolk, Virginia, launched her Foxers lingerie brand last November. Since that time the company's sales have jumped, both online and in boutiques. Now the line has been picked up by Dillard's, its first department store chain. As if that's not enough to do in a short time, the company has also gotten a patent and a major licensing deal to become the exclusive outfitter for the Lingerie Football League.
Spring had the wacky idea of taking the waistband from men's boxers and attaching them to thongs, boy shorts or lace boxers while eating at a cafe in Malaysia with her husband. He was not originally sold on the concept and said "Put those panties away and make those blouses everybody wants," Spring says.

Spring believed she was on to a good thing however, and continued with the pursuit. "I wanted it to look like a grandfather's old boxer. The top of the boxer always sticks out, and it's OK."
The name of the brand was a fluke. BoxHers, the name Spring wanted, was taken. After testing the availability of dozens of names, they began to lose faith that they would be able to come up with a catchy name. Spring says a man's voice, loud and clear in her sleep, told her to name the brand Foxers. She was sure this name was also taken, but after a patent and trademark search the name was hers.
Spring made 300 prototypes that people went crazy for so she launched Foxers on the Internet in April 2007, and within 60 days she had her product in 60 stores across the country with the help of only one sales representative. The line was so popular that the first shipment of 2,800 pair from the Malaysian manufacturer was sold out by mid-October last year.
Spring says that her company is approximately six months away from hitting a million dollars in sales. She keeps her brand in the spotlight by being where the big names are. She has done celebrity gifting at events that included stars like Timbaland, Alicia Keys and The Jonas Brothers, and has done gift bags for artists that didn't win at this year's Grammy Awards. Word spread which led to a feature appearance on the "Today" show.

Read more of Spring's story in The Virginian Pilot.