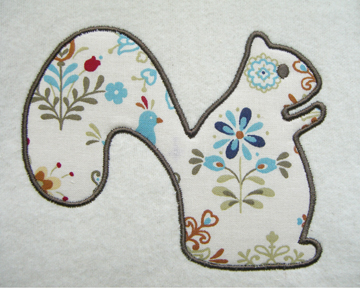 We recently spoke with Ellen Luckett Baker, the creative spark behind TheLongThread.com, a blog about "handcrafted goods in an age of mass production". Ellen's blog highlights tutorials for a variety of crafts and skills in addition to sewing, such as soap making and cooking delectable treats. The applique and embroidery designs Ellen shares are inspiring and the easy steps she provides encourage visitors to get stitching.

Ellen says that she didn't start sewing seriously until about three years ago when her mother gave her an embroidery machine. She says her children "have inspired me to sew and have helped me find the creativity that was missing for much of my life. Whether it's sewing a dress, creating an embroidery design from one of their drawings or helping them make whatever fanciful creation they imagine, I enjoy making things with and for my children."

She was taught sewing basics by her mother while she was a child, but is mostly self-taught and very willing to learn more. "I took my first sewing class last weekend. It was a bias quilt binding class, which I'm hoping will inspire me to actually finish a quilt project."

Recently, Ellen has opened her own Etsy Store called The Long Thread, where she sells embroidery designs for machine embroidery, sewing patterns, and occasionally some handmade goods. The part-time business is run during her spare moments, typically when the children are in school for a few hours in the mornings and frequently at night.

Ellen believes that many crafters undervalue their work because the market is flooded with mass produced, inexpensive goods. Her goal is to help increase the demand for handmade goods so that more people can turn their passion into profit.