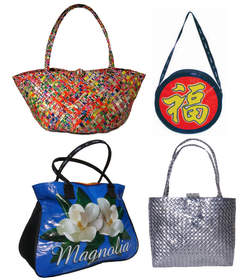 Half the Sky Designs announced that several new styles have been added to the company's eco-chic Rebagz line, including the Pop Top Bag, Life is a Circle Bag and Laptop Carrier. These vivid handbags, which have made an economic impact along with their forward-looking effects on fashion and the environment, are handwoven using recycled juice packs or they are stitched together from artfully cut recycled nylon rice sacks to make stylish backpacks, totes, clutches and more. New prints for the rice sack handbags include "Golden Fortune," "Sun Rice" and "Lion," which adorn new and classic Rebagz silhouettes alike.


As Rebagz become increasingly popular with celebrities like Angelina Jolie and Brad Pitt, America Ferrera, Heidi Klum, Halle Berry, Sheryl Crow and Serena Williams, Half the Sky Designs continues to maintain their prices as well as quality of design in today's challenging economy. "We want to keep our prices reasonable because that generates volume which, in turn, creates jobs," said Marty Stevens-Heebner, founder and president of Half the Sky Designs.


According to the Washington Post, poverty rates in the Philippines are among the highest in Asia, and that's where Half the Sky has its handbags made. "Forty percent of Filipinos — more than 30 million people — live in abject poverty," reports the BBC News Channel. Stevens-Heebner, a former human rights worker, does her part to fight against this statistic by ensuring that the people who make Rebagz are paid fairly and treated well. Her aptly named company references the adage, "Women hold up half the sky," paying homage to the many women who work with Half the Sky Designs.


The economic impact that Half the Sky Designs is making in the Philippines is exemplified by Flor, a Filipino woman who began sewing handbags for Half the Sky one year ago, saved the money she earned and invested it in four used sewing machines. As a result, she now runs her own sewing business. Her work with Half the Sky Designs has not only helped her, but she is now able to help others in her small community as well.


Rebagz are now sold in 245 stores on three continents, which has created jobs for people in Los Angeles, too. "We owe our growth and success to our wonderful customers, and our customers like the fact that they're helping other people and the environment when they buy our bags, as well as getting a handbag that makes people stop and ask them, 'Where'd you get that bag?!'" Stevens-Heebner said. Half the Sky's company philosophy includes the idea that as Stevens-Heebner explained, "Everyone's connected — from the recyclers who collect our juice packs and rice sacks to the women who wear our beautiful bags, and we want them all to feel like they're benefiting. You can't really be eco-friendly if you're not human-friendly as well. Anything else is just last-century thinking."

Rebagz are sold in stores throughout North America, Central America and Europe, and distribution continues to expand. Rebagz range in price from $15 to $150. For more information and additional styles visit
www.rebagz.com
or call 818-376-0125.